Developing A Success Mindset
Overcoming Negative Preconceptions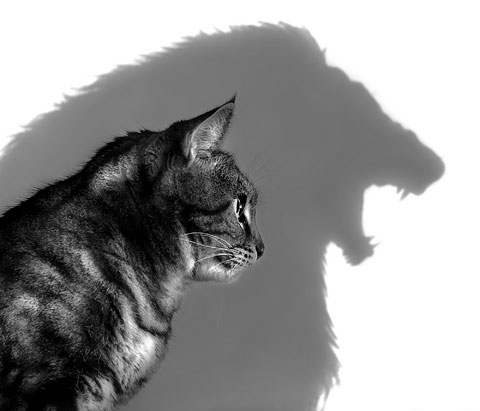 In order to break free from limiting beliefs, we need to change our preconceptions.
Man is still responsible … His success lies not with the stars, but with himself. He must carry on the fight of self-correction and discipline.
– Frank Curtis Williams
Preconceptions are previously formed opinions or ideas we hold about ourselves. These beliefs have the power to influence how we feel about ourselves, what we believe we are capable of, and the actions we take (or don't take) to create the life we want.
So how do we overcome these negative preconceptions? Just like changing our negative thinking to positive, it takes consistent effort and focus.
Changing our negative self-talk into positive self-talk on a consistent basis is key.
Rather than tearing ourselves down, we can choose to fill our inner dialogue with empowering affirmations and build ourselves up.
Think about this: how would you speak to someone you loved and respected?
Would you be cruel and unforgiving? Or would you be kind, encouraging and supportive? It doesn't matter what others say to you, or how others treat you. What matters is how you treat yourself! (Ironically, the better you treat yourself, others pick up on that and begin to see you differently – and ultimately treat you better. It's all about what you believe you deserve.)
At the same time, you can also shift your focus from what you don't want, to what you DO want.
For example, if you fear failure you are motivated to avoid failure at all costs (which usually means procrastinating on your goals and avoiding risk-taking). If you instead focus most of your attention on being successful at whatever you do, you'll find that the fear of failure diminishes.
The more you focus on what you WANT, the less you will attract what you DON'T WANT.
Getting to Know Yourself
It's so ironic that we usually avoid the very thing that would help us build a strong foundation of confidence and self-esteem: spending time with ourselves.
How does that help anything?
Getting to know yourself can blast through any negative preconceptions you may be harboring. Remember, your self-image is usually based on the conclusions you formed from your past experiences. You may hold a belief that you are not a good writer, or you're not a "people person", or that you don't have any special skills, but is that really true? How do you know for sure?
Please don't say, "Because I tried it once and I sucked at it." Trying something once (or only a few times) doesn't count.
The truth is, you can become good (or even great) at anything if you want it badly enough and you're willing to put in the time and effort to get there.
Here's the million dollar question: Do you really want to get "there"? Getting to know yourself helps you separate what YOU really want from what others expect of you. You might think you want to be a great writer because your mother praised the short story you wrote in sixth grade. You craved her approval, so your desire to be a writer might be all wrapped up in the illusion of receiving praise and recognition. You don't want to write, you just want to be a "great writer." If you constantly procrastinate on writing and can't seem to push yourself to do it, you might want to question whether you really want to be a writer after all. Perhaps your true passion lies elsewhere. That is just one example of the many ways we can deceive ourselves.
If you take time to get to know yourself – REALLY know yourself – you will discover things that were previously hidden (or denied because they didn't match others' expectations of you).
Here is the best and quickest way to get to know yourself: spend time alone as often as possible. Shut off the television and radio, block outside distractions, and simply allow yourself to BE.
If this suggestion sounds frightening or intimidating to you, it's a sure sign that you are NOT in touch with your inner self. If you were, you'd know that there is nothing to fear about spending time with yourself – in fact you would be excited at the prospect of doing so!
As soon as possible, begin a new habit that can change your life in dramatic ways: begin spending some quiet, quality time with yourself each day. If you feel intimidated, start small with increments of just ten minutes or so. Sit quietly in a private place and let your thoughts flow naturally. Think about yourself, who you are, what you feel passionate about, what you want out of life, the things you've accomplished, the things you want to accomplish, your relationships – whatever comes to mind.
The more you do this, the more connected you become to your inner self. You begin to tap into your inner dialogue, and a deeper understanding of yourself will surface. The changes you experience from this process might seem small at first, but they quickly gain momentum.
Another good exercise to get to know yourself is journaling. Get a lined, spiral bound notebook and start recording your thoughts during your quiet time alone. Don't worry about spelling, grammar or context. If you understand your scribbles, that's all that matters. Write down your thoughts, feelings, struggles, fears and dreams. Draw pictures. Ask yourself questions, and answer them. Vent your frustrations and strengthen your resolve to do better. It doesn't matter WHAT you write really, just that you connect with yourself genuinely and frequently.
Falling in Love with Your Uniqueness
Getting to know yourself if one important part of the growth process, but equally important is loving and appreciating yourself. Self-deprecation is a habit, just like all types of negative thinking.
Unless you begin to appreciate your strengths, believe in yourself and reinforce your true capabilities, you will not move forward in life! Sure, you might stumble across the random opportunity and make some progress occasionally, but you won't accidentally achieve the level of success you desire.
First and foremost, choose to forgive yourself NOW. Forgive yourself for anything you may feel guilty about, for allowing fear to hold you back from what you really want to do, for not believing in yourself, for allowing other people to define you. Affirm that you did the best you knew how to do, but now you know better – and will do better.
Stop the cycle of self-abuse and begin honoring yourself for the beautiful and brilliant person you were meant to be.
Begin a habit of encouraging yourself. Speak kindly to yourself and affirm your ability to accomplish anything you want. Eventually, you will begin to believe it.
At the same time, work on forgiving anyone who has harmed you, belittled you or held you back. Even though these experiences may have affected you in profound ways, they do not have the ability to affect you now – unless you choose to let them.
Let go of your anger, hurt, disappointment and bitterness. They do not serve you, and they do not punish the guilty. They only punish you by acting as a heavy weight bearing down upon your shoulders. If you release them, you free yourself to create the joy and success you truly deserve.
Starting now, choose to believe in yourself and your abilities. Believe that you can form your life into anything you want it to be. Believe that you can overcome any obstacle, strengthen any skill, tackle any challenge and conquer any fear you may have. The more strongly believe you can do it, the more likely it is that you WILL.
It really is a CHOICE!
LOOKING FOR POWERFUL SUBLIMINAL AUDIO
PLEASE VISIT OUR SUBLIMINAL WEBSITE
CLICK HERE
"Mastering my mind has always been something I wanted to do. Your audio has created a flood of new thoughts that I can be in control of my life. Thank you so much. Brilliant!"